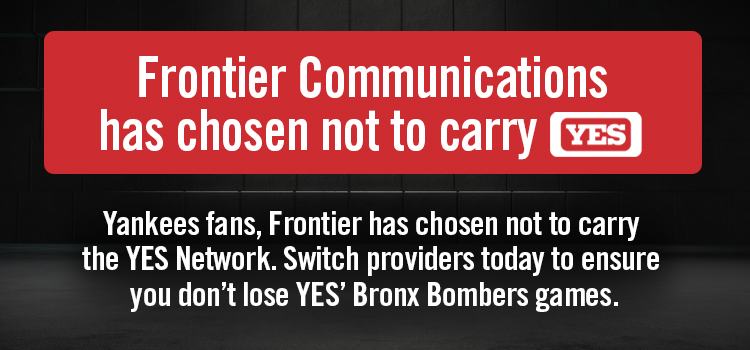 What has happened?
Frontier has chosen not to carry the YES Network. As a result, Frontier customers will no longer be able to watch the New York Yankees, Brooklyn Nets, New York City FC and New York Liberty on YES. We negotiated with Frontier in good faith and were eager to get a deal done, but unfortunately were unable to come to an agreement. Frontier subscribers should switch today to one of the many providers that carry YES and its Yankees, Nets, NYCFC and Liberty games.
What can Frontier subscribers do? How else can Yankees, Nets, NYCFC and Liberty fans watch YES?
There are a number of alternate providers that offer the YES Network, including:
To find what video providers in your area carry YES, visit our Channel Finder page.
YES' Upcoming Game Telecast Schedule
| | | | |
| --- | --- | --- | --- |
| DATE | TEAM | OPPONENT | TIME (ET) |
| Sept. 10 | Yankees | Baltimore | 7:05 p.m. |
| Sept. 10 | Liberty | at Indiana | 7 p.m.^ |
| Sept. 11 | Yankees | Baltimore | 7:05 p.m. |
| Sept. 12 | Yankees | Baltimore | 1:05 p.m. |
| Sept. 12 | Liberty | Washington | 4 p.m.^ |
| Sept. 12 | NYCFC | FC Cincinnati | 7 p.m. |
| Sept. 13 | Yankees | Baltimore | 1:05 p.m. |
| Sept. 15 | Yankees | Toronto | 7:05 p.m. |
| Sept. 16 | Yankees | Toronto | 7:05 p.m. |
| Sept. 17 | Yankees | Toronto | 7:05 p.m. |
| Sept. 18 | Yankees | at Boston | 7:30 p.m. |
| Sept. 19 | Yankees | at Boston | 7:30 p.m. |
| Sept. 20 | Yankees | at Boston | 1:35 p.m. |
| Sept. 21 | Yankees | at Toronto | 6:37 p.m. |
| Sept. 22 | Yankees | at Toronto | 6:37 p.m. |
| Sept. 23 | Yankees | at Toronto | 6:37 p.m. |
| Sept. 24 | Yankees | at Toronto | 6:37 p.m. |
| Sept. 25 | Yankees | Miami | 7:05 p.m. |
| Sept. 26 | Yankees | Miami | 7:05 p.m. |
| Sept. 27 | Yankees | Miami | 3:05 p.m. |
All times ET; schedule subject to change
^Game will be aired on tape delay