About the YES Network
Overview: YES Network, the most-watched regional sports network in the country in 15 of the past 17 years, owns the exclusive local TV rights of the 27-time World Champion New York Yankees, the Brooklyn Nets and the WNBA's New York Liberty. YES, which has earned 118 Emmy Awards since its 2002 launch, also televises original biography, interview and magazine programs, college sports and Manchester City soccer. YES has made the list of Forbes' top 10 most valuable sports business brands in the world for nine straight years.
Executives:
• Jon Litner, Chief Executive Officer
• John Filippelli, President, Production and Programming
 
• Howard Levinson, Senior Vice President, Advertising Sales
Launch date: March 19, 2002. The first regular season Yankees broadcast was April 1, 2002 (Yankees vs. Orioles).
New York Yankees on YES: YES Network televises 128 regular season Yankees games per season, in addition to Yankees on pre- and postgame shows, Yankees Batting Practice Today and Spring Training games. Other Yankees-themed programs include Homegrown: The Path to Pinstripes, the Emmy-nominated docu-series providing a revealing look at the Yankees' best Minor League prospects; Yankeeography, the Emmy award-winning biography series on past and present Yankees greats; Yankeeography: Moments of Glory, which highlights some of the greatest moments in recent Yankees history; Yankees Magazine, the weekly magazine show consisting of Yankees highlights, player profiles, behind-the-scenes features and interviews; Yankees Encore, encore presentations of Yankees games; Yankees Hot Stove, which focuses on the Yankees' and other teams' offseason personnel moves; Yankees Access, which provides exclusive behind-the-scenes off-the-field access to Yankees players; and Yankees Classics, a collection of some of the greatest regular-season and postseason games in Yankees history.
Brooklyn Nets on YES: YES Network televises regular season Nets games, as well as preseason and postseason games, and pre- and postgame shows for all of its Nets telecasts. Nets Magazine is the weekly magazine show containing Nets highlights, player profiles, behind-the-scenes pieces, exclusive interviews and instructional segments featuring the Nets.
New York Liberty on YES
: YES became the exclusive regional TV home of the WNBA's New York Liberty in May 2019.
Additional YES Programming: CenterStage with Michael Kay features intimate sit-down interviews with the biggest names in sports, media and entertainment conducted by YES' Michael Kay in front of a live studio audience; the four-time Emmy-winning Forbes SportsMoney tackles the latest news and trends in sports business. YES also airs live daily simulcasts of ESPN Radio New York's The Michael Kay Show, and televises ACC men's and women's basketball, football and other sports, and Big East men's and women's basketball. In addition, YES airs Manchester City's English Premier League, FA Cup and UEFA Champions League games, along with the club's weekly magazine shows.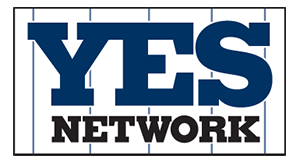 ;